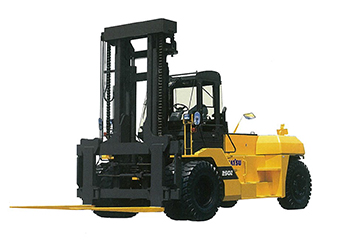 Komatsu lift trucks meeting diversified needs of material handling businesses.
By using the know-how gained from years of experience in production of industrial vehicles and the latest technologies,
Komatsu markets a variety of lift trucks, including small-to large-sized engine-powered lift trucks, battery-powered lift trucks, and HST-drive lift trucks. With wide selection of lift trucks, Komatsu can meet diversified needs of our customers.
Diesel & Gasoline Forklift Trucks

1.5t – 3.5t Diesel Forklift Trucks EPA Tier 2 / EU Stage II Compliant

Model
Rated Capacity
Std. Lift Height
Turning Radius
Rated Output SAE net
(kg)
(mm)
(mm)
(kW)
FG15HT
1500
3000
1955
34.6
FG18HT
1750
3000
1990
34.6
FG25HT
2500
3000
2240
42.6
FD30HT
3000
3000
2370
44.1
FD35AT
3500
3000
2480
44.1

3.5t – 5.0t Diesel Forklift Trucks EPA tier 2 / EU Stage II Compliant

FD35YT
3500
3000
2580
58.8
FD40ZYT
4000
3000
2730
58.8
FD40YT
4000
3000
2770
58.8
FD45YT
4500
3000
2820
58.8
FD50AYT
5000
3000
2850
58.8

6.0t – 8.0t Diesel Forklift trucks

FD60
6000
3000
3250
69.0
FD70
7000
3000
3350
69
FD80
8000
3000
3450
69.0

10.0t – 16.0t Diesel Forklift Trucks

FD100
10000
3000
4000
122.0
FD115
11500
3000
4010
122.0
FD135
13500
3000
4350
122.0
FD150E
15000
3000
4400
122.0
FD160E
16000
3000
4500
122.0