The key to excellence is to have the right skills and the right spirit in your team. This is why we are investing in people by recruiting the best talent and regularly training technicians and parts salesmen, both in Qatar and at our principals' facilities around the world.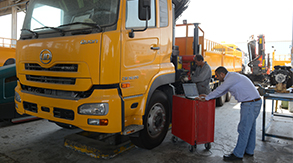 Training modules are tailor-made by our technical Trainer and our supplier's contribution, to develop the competencies. The technician's profiles are designed then, to meet our business needs and our supplier's standards.
Our commitment is First Class Aftersales Support.
The Aftersales Support organization is providing a full range of services to support the business:
Units overhaul
Preventative maintenance and service
Diesel pump overhaul and calibration
Field service
Service and maintenance contracts
For hassle free and low operating cost equipment
Diesel Pump Service Jaidah Heavy Equipment is offering a unique service for service and maintenance of Diesel Pumps and injectors.
Being the distributor for Stanadyne, Cummins, Delphi and Denso fuel injectors and being equipped with the state of the art computerized equipment, we offer a first class service of equipment from Bosch, Zexel, Caterpillar, Yanmar, Micro, Motopal, Ambac and Bryce.
We are also caring out warranty services for Delphi, Cummins, Stanadyne and Denso fuel injection equipment.
Over the last 20 years we build up a reputation for quality workmanship and fast and efficient service. All our work comes with 6 months warranty on labor plus the manufactures warranty on parts.