The All-New D-MAX is at the top of a long line of ISUZU pick-ups that stretch back to 1922 when ISUZU produced their first truck.
Every successive model improved, providing the owner with increased levels of performance, strength, comfort and safety.
The All-New D-MAX is the result of all of Isuzu's engineering knowledge and skills. And like its predecessors, it's a tool, and not a toy; designed and built for the professional pick-up user.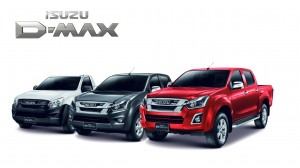 ISUZU D-Max
REDEFINED
Introducing the new and improved ISUZU D-MAX, combining energetic sports styling and ISUZU engineering innovation with a fresh new design. The D-MAX's distinctive new look includes an aggressive front grill design, bigger and stylish 18 inch alloy wheels, new sporty headlamps with integrated daytime running lights, and a refined tailgate. The new D-MAX offering inspired versatility, excellent fuel efficiency, power when it's needed most and first-rate durability completes its evolution into a truly modern vehicle, equally comfortable moving people as it is moving loads.